What is Cape May County bizHub?
BizHub is a small business support center located right here in Cape May County! Here to support your small business venture on the road to success, we can help turn your idea into a viable business or provide assistance to your existing business as you grow.
BizHub was developed to address the unique needs of Cape May County residents, as well as others interested exploring opportunities in a pro-business community offering a great quality of life. We understand the challenges of operating a small business, from planning, strategy, and finance to marketing and operations, plus the obstacles unique to Cape May County. We'll work with you to overcome these challenges with customized plans designed to help your business thrive.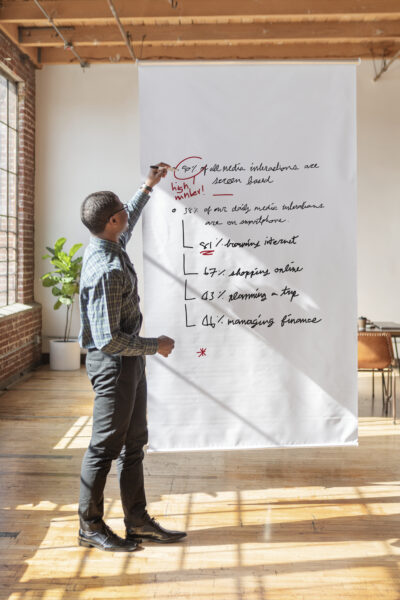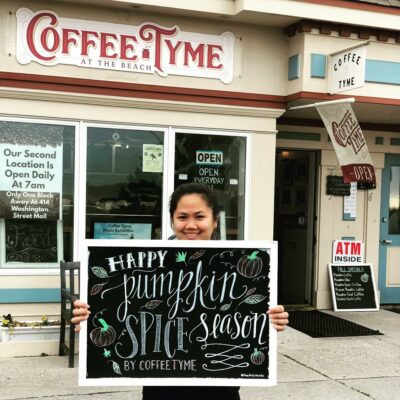 Who can use Cape May County bizHub?
Anyone is welcome to use the free and low-cost services offered by Cape May County bizHub. We provide support to established business owners as well as people interested in growing their skillset or starting businesses in Cape May County, with special outreach to women, minority, and veteran-owned businesses.
Support is available for: 
Start-Up businesses

Transforming an idea into a business plan.
Locating resources during the development phase.
Developing actionable steps to launch your business.

Existing businesses

Searching for information or assistance.
Considering a pivot, expansion, or transition.
Seeking to connect with local professionals.

Individuals, including students and young adults

Pursuing entrepreneurial skills or education.
Exploring "side gig" opportunities.
Translating an idea or skill into a business plan.
The Cape May County bizHub Network
The primary bizHub location at the Cape May County Campus of Atlantic Cape Community College in Cape May Court House offers a central location for business owners and entrepreneurs throughout the county to access resources. Plans for satellite bizHub spokes at the Cape May County Government Economic Development Office, The Cape May County Chamber of Commerce, and the Cape May County library system branches will further enhance access. Additional BizHUB community partners are committed to providing services and local outreach and support as well.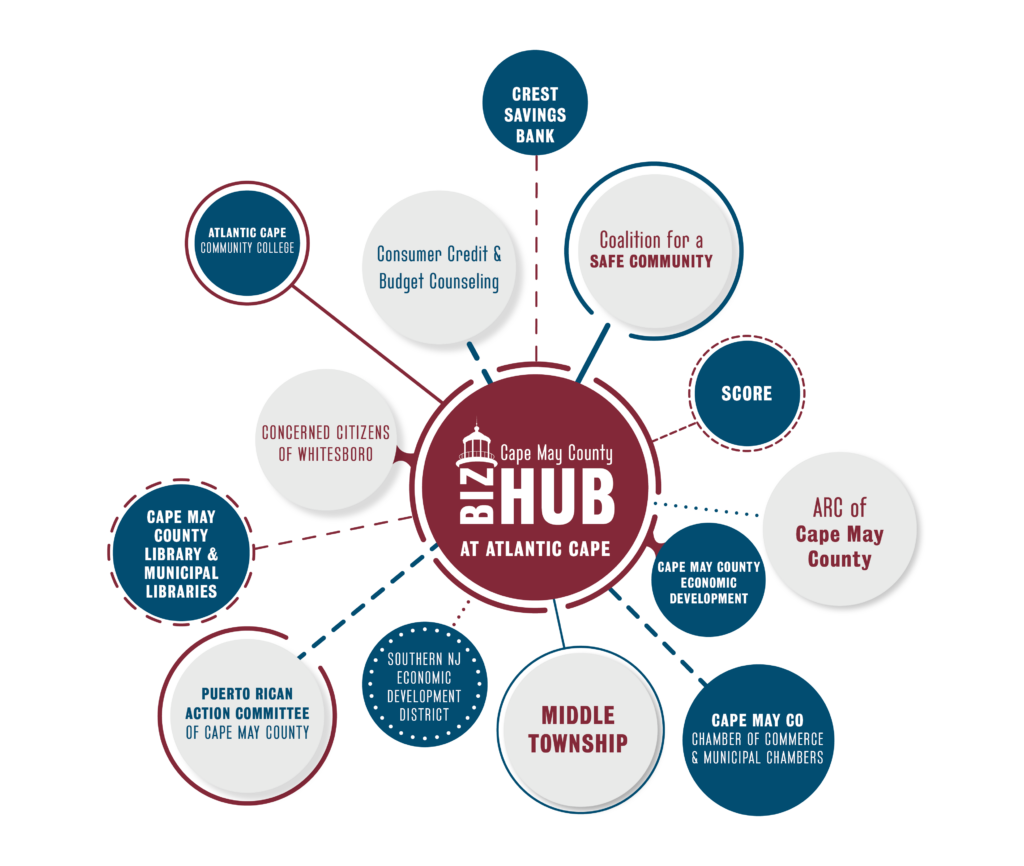 Cape May County bizHub Partners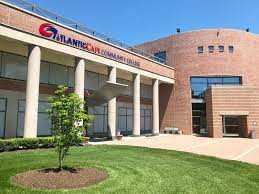 As the region's leading educational and professional training provider, Atlantic Cape Community College (Atlantic Cape) partners with a robust network of local businesses and organizations for economic and workforce development. This wide range of partners agrees that providing local access to business resources is vital to establishing a new landscape of employment opportunities in the County and ensuring the community's continued economic success. With the support of a grant from the New Jersey Economic Development Authority and start-up funding from the US Department of Agriculture Rural Business Development Program, Cape May County and Crest Savings Bank, a working group of civic, business, academic, and political experts founded the Cape May County bizHub to address these concerns directly.
Vision Statement
We envision a County with a diversified, vibrant, year-round economy that supports all stages of business development, a fully employed workforce, and the ability to innovate and evolve.
Mission Statement
Cape May County bizHub is a leading business resource working as an active part of a concentrated County-wide effort to educate, develop, support, and attract businesses that contribute to the growth of the Cape May County economy.
bizHub Leadership
The working group that created the Cape May County bizHub, including members representing Cape May County government, Atlantic Cape Community College, and the County's business community, continue to serve in an advisory capacity. A paid director staffs the Cape May County bizHub, while Atlantic Cape and Cape May County government provide in-kind services.
Cape May County Government:
Leonard C. Desiderio, County Commissioner
Andrew Bulakowski, County Commissioner
Will Morey, County Commissioner
Jeffrey L. Pierson, County Commissioner
Leslie Gimeno, Director of Planning
Joe Molineax, Director of Economic Development
Atlantic Cape Community College:
Jean McAlister, Chief of Staff, Chief Advancement Officer, Executive Director – Atlantic Cape Foundation

Krista Fitzsimons, Director, CMC Campus & Community Outreach

Christopher Stenger, Director of Cape May County bizHub

Sherwood Taylor, Director of Workforce Development
Karl Giulian, Associate Professor of Business
Community Leadership:
Edward Savino, Senior Vice President and Chief Lending Officer, Crest Savings Bank
Vesna Palifrova, VP Senior Commercial Loan Officer
Louis Joyce, Director South Jersey Economic Development District
Jim Rutala, Economic Development Consultant, Rutala Associates
Barbara Jones, President, Cape May County Chamber of Commerce
Neil Abitabilo, SCORE Cape May County
Laura Gaffney, Chief Marketing/Development Officer, ARC of Cape May County
Perry Mays, Coalition for a Safe Community
Ralph Padilla, CEO, Puerto Rican Action Committee
Nancy Sittineri, Director Grants and Economic Development, Middle Township
Original Working Group Members not listed above
Vicki Clark
Nancy Cleaver
Maria Kellett
Carol Mattessich
David Yunghans